The Pepperpot – With Andrew Pepper and Guests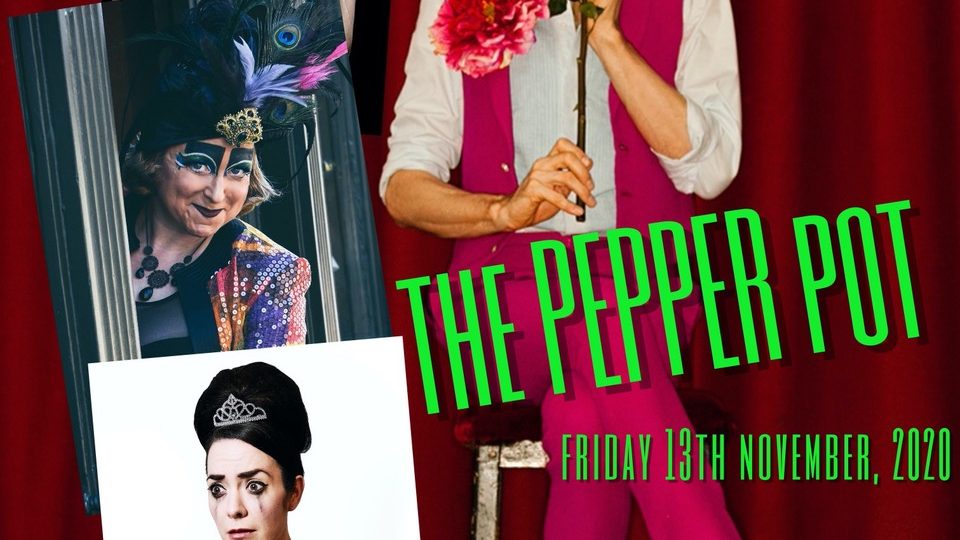 7:00 pm - 9:30 pm
Thursday, January 21, 2021
Two Brewers, 114 Clapham High Street
The Pepper Pot with Andrew Pepper and guests
Saddle up, Clapham! Award-winning cabaret titan, ANDREW PEPPER, is flying in, sanitised, hydrolysed and pasteurised for your protection.
"Andrew Pepper, a one off, daring to go further than you ever imagined a performer would" ** – Musical Theatre Review
The Pepper Pot is no ordinary show. It is THE show; a happening of gargantuan proportions with more spice, more heat and more sting than a Scotch bonnet. A night guaranteed to saturate every last inch of you with enough fizz to launch a rocket ship. My God, there'll be more talent on display than there is in the changing room of the Italian men's Olympic swimming team.
Completing the Capsicum Cavalry, are a trio of cabaret's most towering talents. More kick ass than Charlie's Angels, more magical than Shakespeare's witches, and more fierce that Angelina Jolie's three marriages…
Clapham, prepare ye for: Ada Campe. Ms Audrey Heartburn and La Poule Plombee, (aka Sarah-Louise Young)
So, forget your worries, leave your lockdown blues outside and let your hair down. There is no one more qualified to entertain you.***
********ADA CAMPE********
Winner of the 2018 Leicester Square Old Comedian of the Year Competition
"Ada Campe made me laugh more than anyone on the circuit for years. Genius" – Sandi Toksvig
"Resembles an unhinged super-villain" – DIVA Magazine
********MS AUDREY HEARTBURN********
2019 New Act of The Year Finalist
"Embodies the spirit of alternative cabaret" – Chortle
"Side-splitting" – The Gay UK
********LA POULE PLOMBEE********
The Stage Award 2016
"Incomparable character cabaret" – The Stage
"An effortlessly slick send-up of chanson…a masterclass in character comedy" – Broadway Baby
Joined by The 2 Hot Bufties: Alex Maynard on piano; and Dan England, thrashing it out on anything he can get his mitts on.
THE PEPPER POT
"Andrew Pepper, a winner whatever he's doing" – Evening Standard
"A true original influenced by the decadence of Isherwood's Berlin" – Boyz Magazine
"He of the magnificent voice" – The Stage
"A dazzling and meticulously executed display of shape-shifting showmanship" – Cabaret Scenes
*Now with added spice.
**Croydon, perhaps?
***Except maybe Divine Brown.
7pm – 9,30pm
Tickets are £15 per person but sold as tables of 2, 3, 4 persons.