The Christmas feast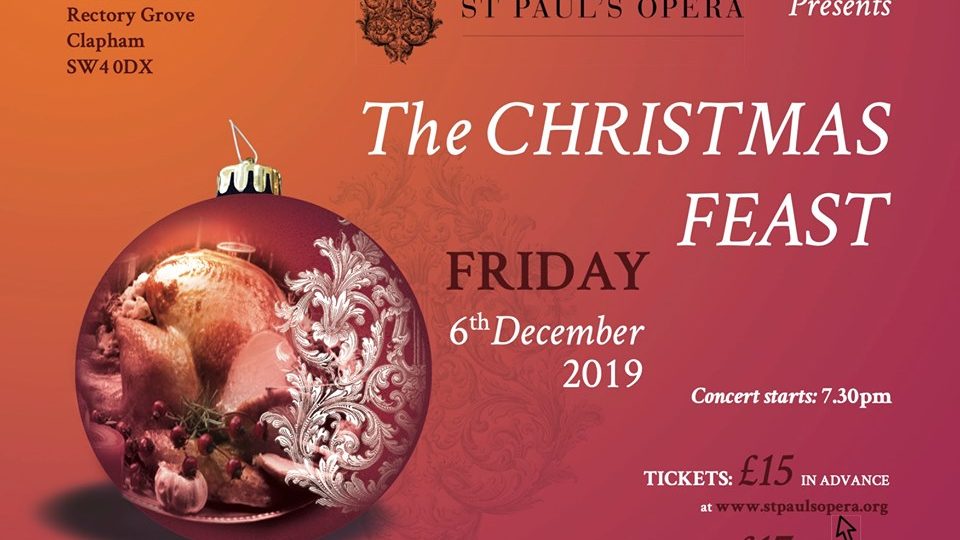 7:30 pm - 10:00 pm
Friday, December 6, 2019
St Paul's Church, Rectory Grove
The family are gathering for the annual Christmas dinner. The table is set and relatives both close and distant are arriving for the feast. Kisses all round as folk turn up but as the wine starts to blow, everyone digs in and rivalry resurfaces over the best party piece. Things begin to unravel. The matriarch of the family does her best to hold it together with the aid of 'diplomacy', some loyal servers and a punctuation of unexpected guests.
Regular soloists from St Paul's Opera productions and concerts, plus members of our chorus, will return to offer arias and ensembles to enjoy the best time of the year to sing. We will not forget our audience, with some community singing to crown the evening's entertainment.
The evening will be directed by Ashley Pearson, director of SPO productions of Die Zauberflöte, Orpheus in the Underworld, and Così fan Tutte. Our musical director for the evening is Panaretos Kyriatzidis and our producer is Patricia Ninian.