Lambeth Commercial Waste Fines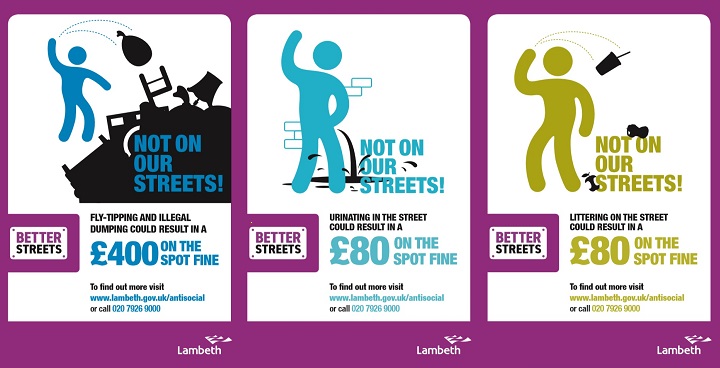 Lambeth recently launched their Not on Our Street Campaign  and expanded their enforcement teams who are actively engaging with businesses and members of the public and issuing fines for littering, urination and fly tipping. Lambeth Council have warned businesses that they could face fines of up to £400 if they contravene environmental legislation.
Below are some examples of the types of fines that Lambeth are able to issue and the reasons why:
failure to produce a waste transfer note (£300)
placing waste in black bin bags on the public highway (flytipping £400)
placing waste in the the incorrect place for collection
transporting waste between businesses premises without a waste carriers license (£180)
placing waste on the public highway outside of the timed collection zones (£75)
Timed Collections
Lambeth Council operates a timed collection regime across most of Clapham, which sets series of time bands for when waste must be presented and then removed from the street. These are –
Present waste between 5am and 8am, Monday to Sunday, with waste removed by 9.30am.
Present waste between 5.30pm and 6.30pm, Monday to Sunday, with waste removed by 8pm.
If businesses are unsure of their responsibilities they are advised to either contact This is Clapham or Lambeth Council. More information is available on the Lambeth Council  website.
This is Clapham also provide a free recycling service through its contractor First Mile to all it's members. Businesses can benefit from a free allocation of waste and up to 20% off a range of different services. For more information, visit the This is Clapham website.