Maurice Dorfman Appeal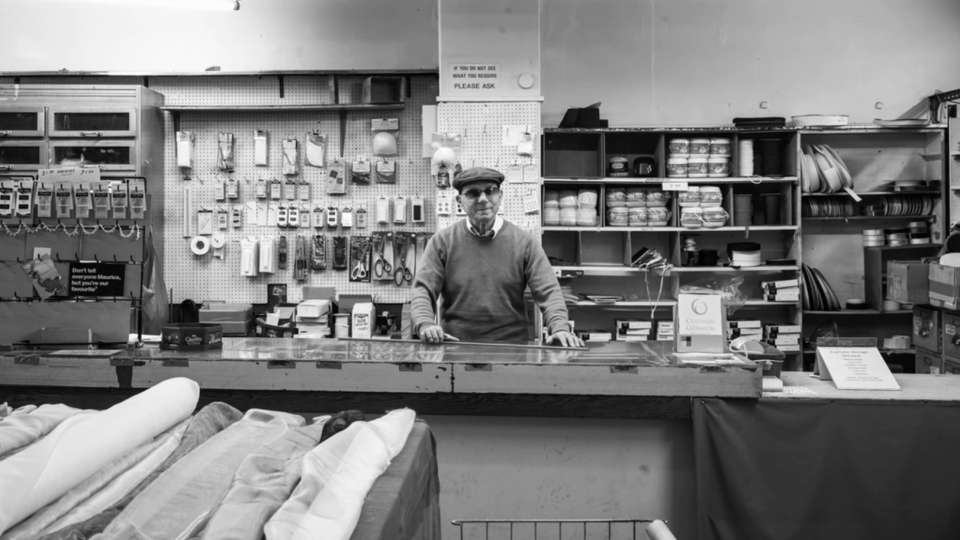 On February 18th, 2020, Maurice Dorfman passed away at the age of 87. He was still resolutely opening his shop on Clapham High Street, Jeannette Fashions, as he always had done, day after day, until his illness in December 2019 resulted in him being admitted to hospital.
With no family to pass the business on to, a remarkable 60 years of trading by the Dorfman family on Clapham High Street came to an end. It really was the end of an era for this traditional haberdashery and fabric business that so many customers had frequented over the decades and which had fulfilled such a valuable role in the community.
On his passing, his shop window was filled with photographs, by Jim Grover, of Maurice, as well as his woodland burial. The response was extraordinary. So many passers-by stopped and reminisced with complete strangers, united by shared memories of Maurice and his family business.
The memories and emotions that Maurice's passing triggered was inspiring; it was just so sad that Maurice had no idea how respected, admired, and appreciated he was by so many.
To pay one final tribute to Maurice, an exhibition to celebrate his life is being planned, subject to raising the necessary funds to create and stage it.
The exhibition is being created by award-winning local social documentary photographer, Jim Grover, who befriended Maurice as part of his 2016 photo-essay, '48 Hours Clapham on Clapham High Street' and which Maurice featured in. Jim has staged several acclaimed photography exhibitions in the past five years, nearly all of which have been covered by the national media. The exhibition will draw on a variety of resources: photographs (old and new); documents; objects; old 35 mm slides and cine film; audio recordings; and memories of employees, customers, and friends.
The exhibition will be professionally-staged and is planned to be in Maurice's shop at 22 Clapham High Street. The exhibition is planned to launch sometime in Spring 2021 (and no later than June 2021) in part determined by whatever Covid-19 protocols are in place at the time.
The exhibition will also be reproduced on-line so that those who are unable to visit the exhibition in person will be able to view it on-line.
To curate the exhibition Jim has launched a kickstarter campaign to raise £7,700 to fund the creation and staging of this exhibition. The £7,700 will cover the following key costs: creation, curation and production of all exhibition content (including mounted photographic prints, audio and video material); staging the exhibition on a professional panel system with lighting; exhibition PR and marketing; insurance; Kickstarter fee; exhibition catalogue production; research; travel expenses. Given the particular circumstances, Jim has waived his usual commission fee.
It's all or nothing with a Kickstarter Campaign so Jim has got his fingers crossed that the wonderful community in Clapham can pull together to make this one final tribute to one of Clapham's finest.
To make a donation to the campaign, please visit – https://www.kickstarter.com/…/the-life-of-maurice…