Clapham Streetspace Scheme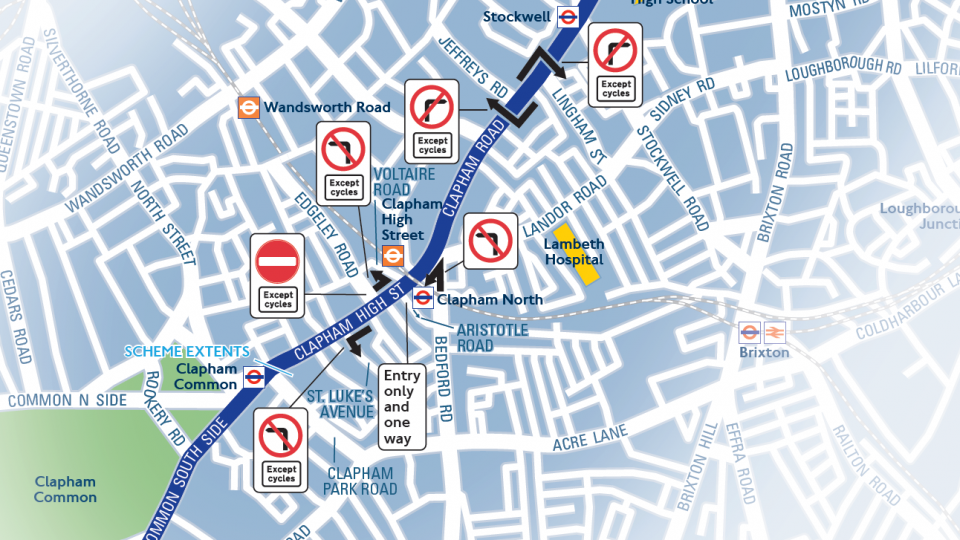 TFL have announced plans to start building the temporary Streetspace scheme that will provide an upgraded cycle lane from Clapham Common to Oval on Monday, 5 October. A resident letter will be delivered to all addresses up to 250m either side of the scheme.
This is a temporary scheme built with temporary materials, and therefore changeable. Streetspace schemes are being delivered across London to avoid a car-led recovery from the pandemic, since social distancing had a great impact on public transport's capacity.
Rationale behind this scheme
This is a strategic cycling corridor which follows the Northern Line from Colliers Wood to Elephant and Castle and goes onto City of London. This section is 3km of the route, in between other sections.
Improvements to the cycleway will help reduce pressure on the Northern Line which serves 324,000 trips each day (LUL 2019)
There is a high collision rate along the corridor involving cycles – these improvements will increase safety
With potential queuing at stations, shops and bus stops, there is a need to provide social distancing measures wherever possible
Changes TFL are making
Once the new scheme is delivered, cyclists going southbound will see a new section of lightly segregated cycle lane using cylinders between Lendal Terrace and St Luke's Avenue. At every junction, advanced stop lines will be lengthened to give cyclists more space and visibility. The bus lane will be widened, extended where possible and made 24 hours, so that users can have the same reliability no matter what time they decide to travel.
It will be necessary to ban some turns at junctions to protect vulnerable users. These bans are based on recent collision data, to allow space for social distancing, and to provide more green time for pedestrians. Emergency services will be exempt from these restrictions. Please see below a full list:
No entry from Clapham Road into Durand Gardens
No right-turn from Clapham Road into Lingham Street
No right-turn from Clapham Road into Jeffreys Road
No left-turn from Bedford Road into Clapham Road (except cycles)
Entry only from Clapham High Street into Aristotle Road
No left-turn from Clapham High Street into Voltaire Road (except cycles)
No entry from Clapham High Street into Edgeley Road
No left-turn from Clapham High Street into St. Luke's Avenue
All off-peak parking bays removed from this section of the A24. This will help provide a better and safer cycling experience, while maintaining bus journey times reliable. Loading bays will be relocated to nearby side roads wherever possible. Disabled bays will not be affected.
Maps outlining the changes are available here –
Construction plans
Works will happen daily, from 22:00 to 5:00, and completion is planned for 31 October. Please note that due to wet weather conditions, we may have to reschedule and extend works without further notice.
Contact TFL
If you have any questions or comments, please contact StreetspaceLondon@tfl.gov.uk.