Rainbow Aphorisms wins best public art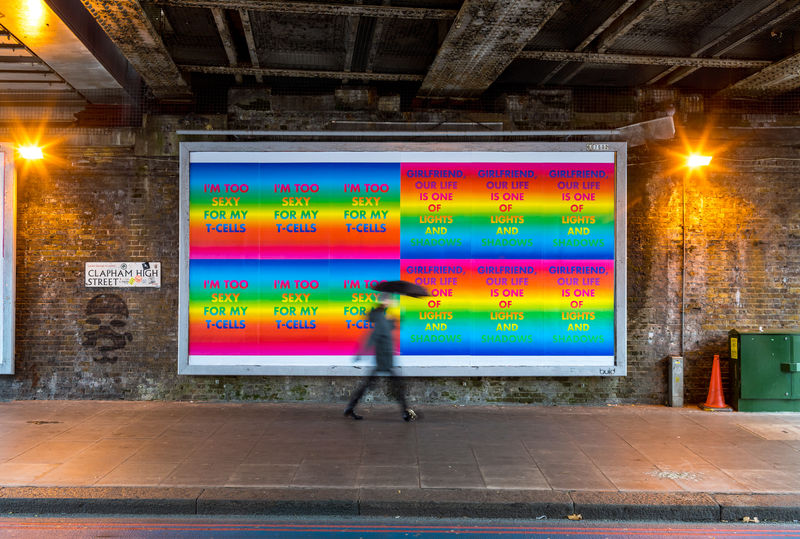 Clapham has been recognised by leading arts publication Artsy for its recent David McDiarmid Rainbow Aphorisms installation, which appeared in Clapham and across the London tube network. The installation was highlighted as one of best public works in the world in 2018.
On behalf of Artsy, the art-and-design studio and foundry UAP compiled a list of the most compelling public artworks and initiatives around the globe. With the help of international curators, 12 public works that captured the world's imagination in 2018 were highlighted.
About Rainbow Aphorisms the curator wrote – "David McDiarmid's activist and alluring Rainbow Aphorisms reappear, after the artist's death of AIDS in 1995, across South London's metro, infiltrating the streetscape and accosting the passerby," says King. "His witty and dazzling slogans stridently message queer identity and history, as urgent and politically astute as ever. Pithy phrases such as 'Don't forget to remember' and 'I'm too sexy for my T-cells' are emblazoned against rainbow backgrounds, reminding us of both the AIDS crisis and the pertinence of inclusivity in contemporary society."
To view the full list CLICK HERE
The David McDiarmid Rainbow Aphorisms installation was the first pilot project of the Clapham Public Realm Strategy, which seeks to fund the installation of public artworks across Clapham. The installation was commissioned by local arts organisation Studio Voltaire in partnership with This is Clapham Business Improvement District. The Aphorisms appeared above the Two Brewers and Studio Voltaire and on advertising hoardings in Clapham. In partnership with Art on the Underground they also appeared across the London Tube Network and were seen by an estimated 36 million people. More information about the project is available on our project page.