Raise the Bar Campaign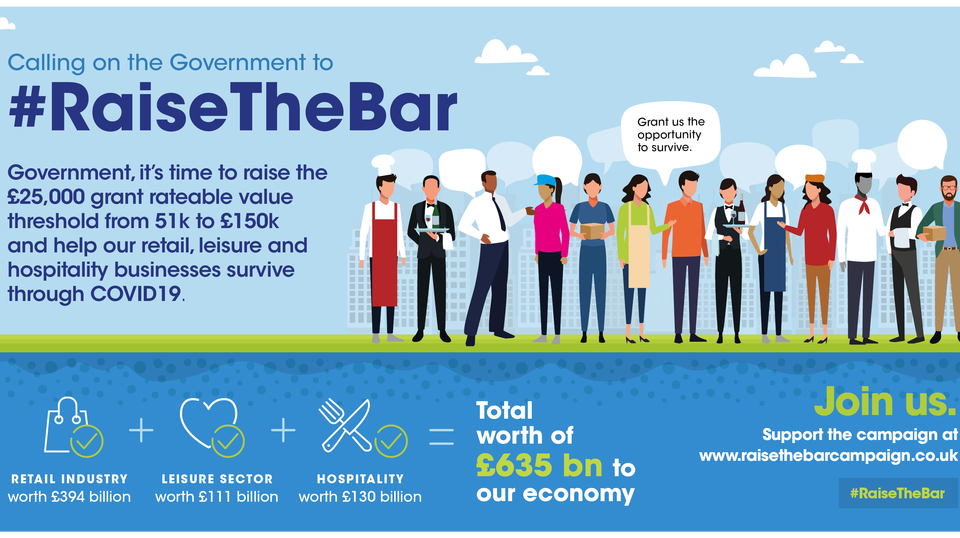 We have joined the #RaiseTheBar campaign in partnership with industry trade bodies, politicians and partners across the UK including other British BIDs, BID Foundation and ATCM, to support our BID members in the retail, hospitality and leisure sectors.
#Raisethebar is a collective national campaign led by Croydon BID designed to lobby the government to raise the eligibility threshold for businesses to receive the £25,000 government grant from a rateab;le value of £51,000 to £150,000. In amending the rateable value, we not only save businesses but we also save jobs…
We are deeply concerned that businesses within the retail, hospitality and leisure sectors do not have the support they so desperately need at this time from the Government. In particular, the financial grant offered as part of the RHLG of £25k is only available to businesses in those industries with a rateable value of £51k or less. There is a significant number of businesses from across the UK that will not be able to access this grant simply because the threshold is too low.

As part of a unified national campaign, #RaiseTheBar, we have co-signed a letter to the Secretary of State for Business, Energy and Industrial Strategy Rt. Hon. Alok Sharma MP.
You can download the letter here.
Download the campaign info-graphic here
You can download the #Raisethebar campaign image here.
You can download the #Riasethebar campaign image for Instagram here.
Read the letter from Cllr Jack Hopkins to the Chancellor here.