The Orangery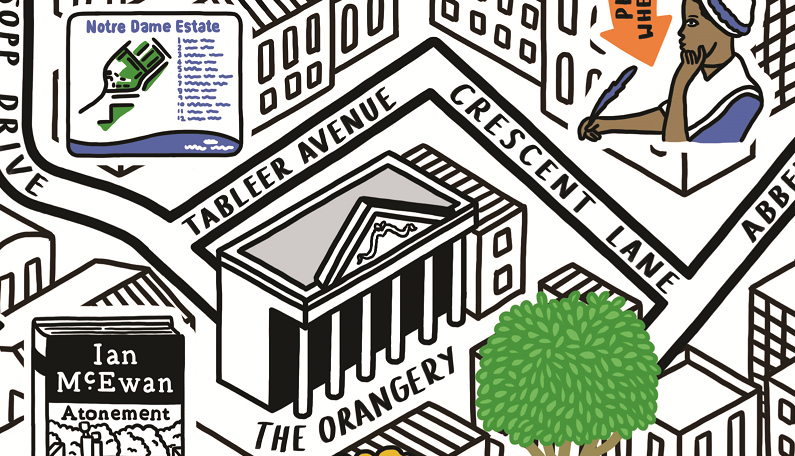 The orangery was built in 1793 by Dr William Burgh and was part of a miniature landscape estate with a lake belonging to the Thornton family. It is now situated in the Notre Dame Housing Estate. The Thornton Family were a prominent family involved in trade and politics and various generations lived on the estate and in the area.
Robert Thornton was merchant who became a Director of the Bank England. He built a house on the South Side of the Common in c.1740. His son John, another successful merchant succeeded him there, and John's son, another Robert, lived in the next house, where he took great pride in his extensive garden.
A guide book published in the 1790s refers to 'Mr Thornton's ornamental park' with its trees, lawns, shrubberies, venerable oaks, gothic bench in front of the house and the small river running through the pleasure gardens 'gently bounded by rising hillocks and smooth slopes'. 'The rock-work grotto is extremely well executed, but in a style too wild for a gentle stream, and [there is] a smooth shaven lawn spotted with shrubs'. But the outstanding feature was the 'green-house' or Orangery, which was designed by Thornton's friend, Dr Burgh of York and built in 1792-3. The façade is a simple classical design with columns of Portland stone and Ionic capitals in Coade stone. The pediment is decorated with swags of roses, fir cones and leaves and in the entablature is carved a quotation from Virgil, which translates roughly as 'Here is perpetual spring and summer even in other months'.
There were glazed sashes between the columns, and the inside was plainly plastered. Two doors in the rear wall led into an extension behind, which comprised three rooms. The orangery, besides being used for plants, was also a place for entertaining, and amongst the guests welcomed here were Queen Charlotte and the Princesses Augusta and Elizabeth, whom Robert Thornton entertained in 1808.