Clapham Cultural Map by Jenni Sparks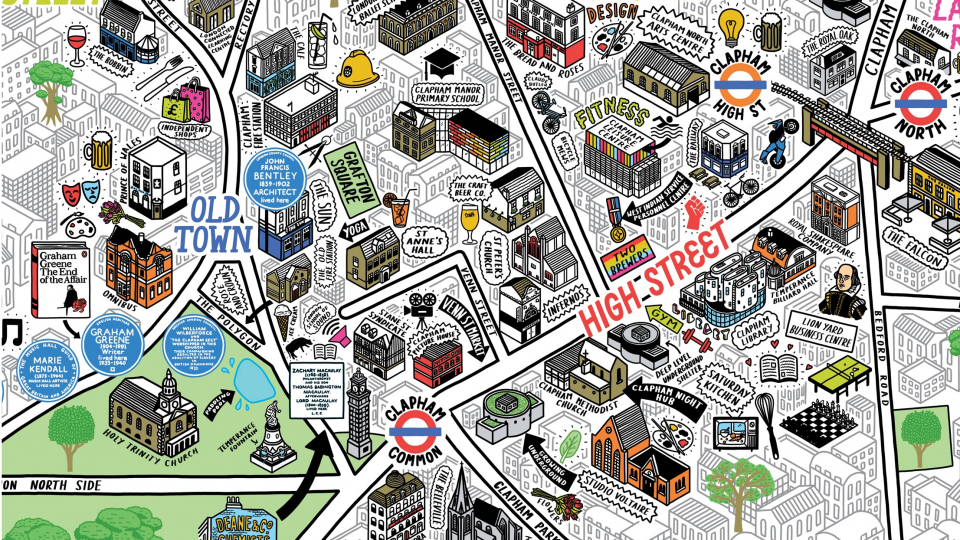 This is Clapham BID has teamed up with illustrator and map maker Jenni Sparks to create a new cultural map of Clapham. The map can viewed on the boarded up shop at 17-18 The Pavement alongside information about famous residents of Clapham.
The project was funded and delivered by the This is Clapham BID, with support from Lambeth Council and the Mayor of London. Jenni was supported by local residents Alyson, Peter and Derrick, who are all members of the Clapham Society's local history group, alongside Diane from the Clapham Churches Together Project.
"I was asked by This Is Clapham BID to create a map of Clapham that would showcase the area's history and celebrate it's culture. I worked with a local historical society as well as members of the public to research and create the map, which will be used as both a public mural and as a handy guide to the area."
Jenni Sparks
"We are really pleased to have got Jenni Sparks on board to deliver this project. Clapham is a place with a proud history and modern day vibrancy. It's has a strong cultural economy and Jenni has been able to  capture this in her unique style."
Bobby Ijaz, Charles Sinclair and BID board member 
Jenni Sparks is an illustrator, designer, map maker, hand-letterer and human being. Originally from a small seaside town in South West England, but now based in London, she's living the dream of being able to colour stuff in for a living while listening to techno all day.
To purchase your very own signed copy of the map in A2 for £60 please email info@thisisclapham.co.uk