William Scott Public Artworks 15 October – 2 January 2022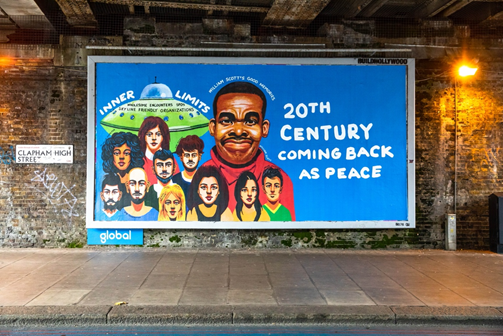 William Scott Public Artworks 15 October – 2 January 2022
To coincide with a major exhibition of the artist's work at Studio Voltaire, William Scott has curated a series of artworks which are presented across our neighbourhood in Clapham, London.
Working closely with landmark sites in the area, including Clapham Methodist Church and the Deep Level Shelter at Clapham Common as well as utilising advertising billboards, the presentation animates Clapham and provides unique moments for residents and visitors to encounter Scott's practice in the everyday.
While deeply rooted in personal history, Scott's paintings address wider questions of citizenship, community and cultural memory. Frequently describing himself as an architect, his works reimagine the social topography of his native San Francisco, as well as self-portraits and depictions of family members, his neighbours and women from the Baptist church he has attended since childhood.
The programme was supported by the This is Clapham BID who made a contribution towards the costs of the programme. Terry Georgiou, Clapham BID board member and the owner of Aquum also sponsored the artworks installed on advertising hoardings on Nelson's Row.
Find out more about the public artworks and locations below.
This display has been produced by Studio Voltaire and kindly supported by Arts Council England, This is Clapham BID, Aquum and Omni. With special thanks to Clapham Methodist Church, Growing Underground and Transport for London.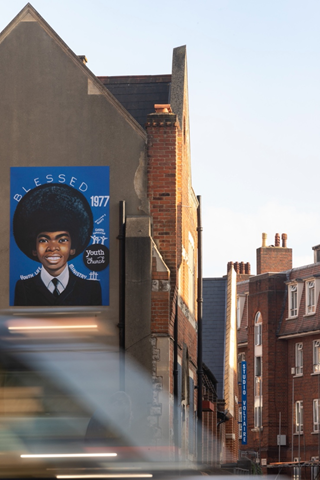 Clapham Methodist Church
In the work displayed here, Scott depicts an imagined version of his younger self. A long–time member of his neighbourhood Baptist church community, Scott re-imagines himself as a smiling, teenage 'gospel superstar' at his youth church. This self-portrait is part of an ongoing series of paintings referred to as Another Life, in which Scott explores new and different lives, and addresses issues of faith, disability and desire, expressing a longing for his past to have played out differently.
From 15 November the artwork displayed will change. Community and church life are primary concerns in Scott's practice. In the work displayed here, Scott has depicted Melissa, a member of the Cornerstone Missionary Baptist Church in San Francisco, which he has attended since childhood. Scott frequently produces paintings of the women who are part of his church community. Captioned with descriptions such as 'queen of gospel', they are shown dancing or raising their hands in worship. Scott's portraits are often celebratory, and have also included paintings of his immediate family, as well as public figures including Oprah Winfrey, Prince and Maya Angelou.
Address:
Clapham Methodist Church
121 Clapham High Street,
Clapham
SW4 7JR
Nelson's Row Billboards
Frequently describing himself as an architect, Scott often reimagines the neighbourhoods where he grew up. In Untitled, 2013, the old housing estate is replaced with a new utopian community.
In many of the artist's self-portraits, Scott presents himself in alternative and parallel lives which often reconcile his past and his experiences as a person with disabilities. In Untitled, 2013 he reimagines his younger self as 'Billy the Kid' and depicts himself as a star basketball player for the Los Angeles Lakers.
Scott often celebrates Black cultural icons past and present. Untitled, 2012 depicts the all-female American
R&B vocal group En Vogue. The internationally renowned group were originally formed in Oakland, the city where Scott has a studio.
Address:
Clapham High Street Bridge Underpass
Clapham
London, SW4 6EU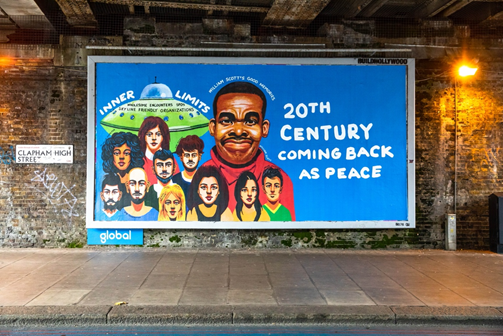 Clapham High Street Bridge Billboard
Address:
Clapham High Street Bridge Underpass
Clapham
London, SW4 6EU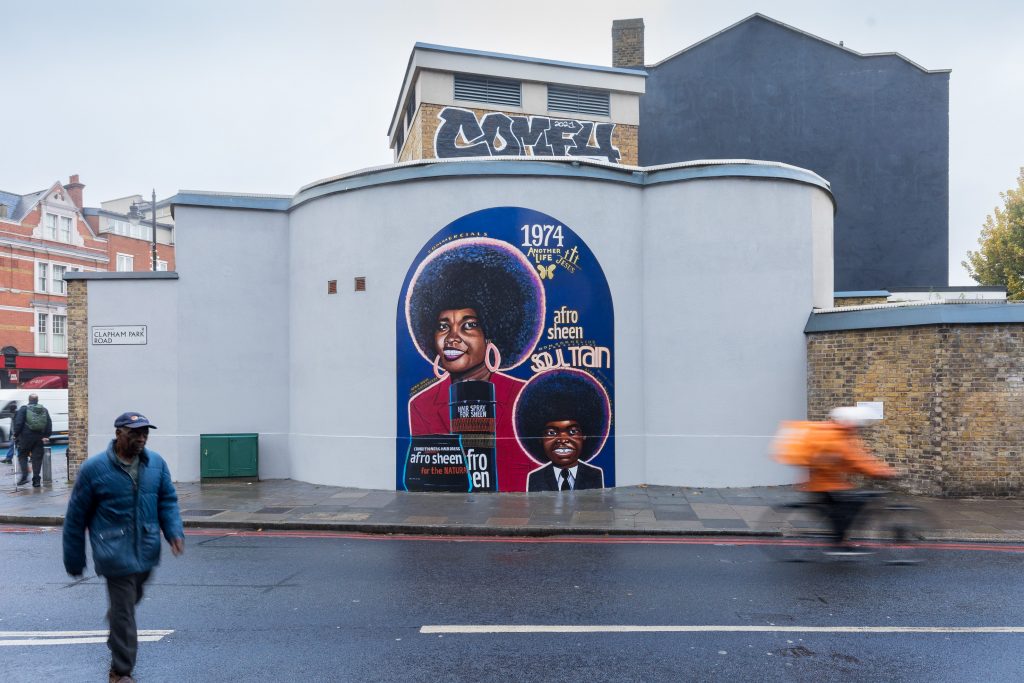 Clapham Common Deep Level Shelter
This artwork features a self-portrait of the artist as a child with his mother, Edna. His highly detailed compositions sensitively render their likenesses and are accompanied by promises of 'another life'. The 1960 and 70s are a personal and cultural touchstone for Scott, and the work makes reference to early television advertisements for the hair care brand AfroSheen whose Black–owned parent company, Johnson Products, was the exclusive sponsor of the syndicated television show "Soul Train" from 1971. In his paintings, Scott frequently depicts himself with an afro – a hairstyle he never had in real life but wished he did. Displayed here, the work responds playfully to Clapham's history of Ghost Signs in the area, including the grooming company 'Gillette Shave' which is further down Clapham High Street.
Address:
Clapham Common Deep Level Shelter
Opposite Clapham Common Underground Station
London SW4 7SS
The Willliam Scott public art programme was part funded by the European Social Fund.