win trip to Italy with ECO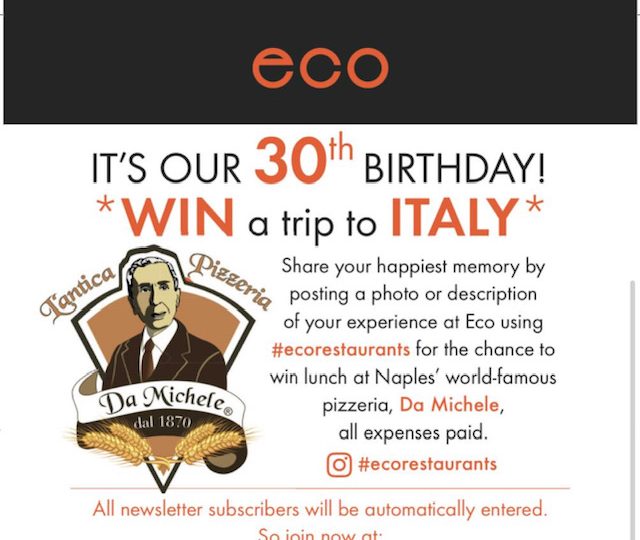 Help Eco celebrate by sharing your happiest memories and be in with a chance to win a trip to Italy! All you need to do is post a photo or description of your experience on Instagram and make sure you at Eco by using hashtag #ecorestaurants.
Eco have partnered with the oldest and best sourdough pizzeria in Italy, L'Antica Pizzeria Da Michele and are so excited to offer you the chance to win a trip to Naples in exchange for poems, thoughts, memories and/or photos to explain why you love Eco so much! Eco has been an anchor of stability, consistency and comfort eating for Clapham and beyond for decades and they'd love you to share your experiences.
The winner will receive a lunch or dinner at L'Antica Pizzeria Da Michele plus the flights and accommodation. The offer does not include endless gelato or Italian yachts unfortunately, but you will get you spend a couple of nights in the beautiful city!
Entry opening and closing is between the 1st and 31st of October. The winner will be informed between 1-14th November. The holiday and flights must be used by the end of Feb 2024. The trip will take place from a Friday until Sunday (for two nights) but not during half term or official holiday breaks. The accommodation will be for 1 en-suite hotel room with one double bed or two beds within close proximity to L'Antica Da Michele and of good and reliable reputation. Eco will not pay for additional luggage. Eco will not take responsibility for delays or missing flights and the subsequent knock-on effect. This will need further refining
GOOD LUCK!