CARPETRIGHT OPENS FIRST NEW LOOK STORE ON CLAPHAM HIGH STREET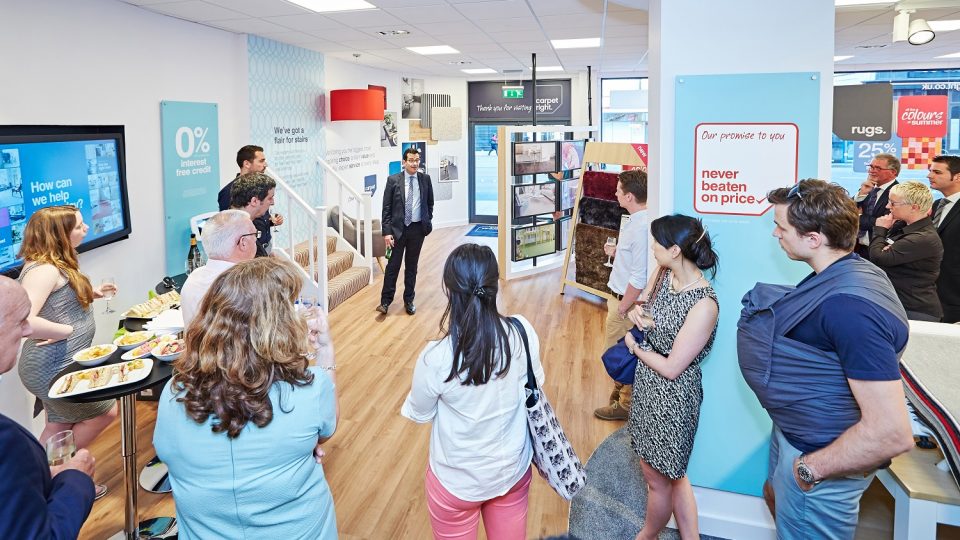 On 2nd July Carpetright, Europe's leading specialist carpet and floor coverings retailer, launched the first of four exciting new concept stores on Clapham High Street, designed to make transforming homes in south west London even easier.
Despite a period of sustained economic turbulence Carpetright have recently reported a turn around in their fortunes reporting "substantial growth in Group underlying profit to £14.2m, strong like-for-like sales growth in UK, a return to profit in the Rest of Europe and a net cash position at period end."
They are now taking the opportunity to progress and range of strategic objectives to broaden the appeal. The CEO of Carpetright Wilf Walsh explained –
'While Carpetright enjoys high brand awareness and a strong reputation for value within its core customer base, encouraging potential new customers to consider us when they shop for floor coverings requires a repositioning and updating of the brand.
Having completed a comprehensive review of our brand, sub brands, tone of voice and identity, work is well-progressed on the development of an updated brand positioning that is more in tune with the contemporary retail market.
Key elements of this work include:
The introduction of new promotional messaging in 2015, with revised point-of-sale and advertising campaigns, which are dramatically different in style and message from the predominantly price-led theme adopted historically.
A trial of new retail concepts in four stores in and around London, beginning in July 2015. Each store will trial an experimental shop fit that is a significant departure from existing stores, with new elements to inspire customers and encourage experimentation, sampling and discovery.
As part of the store trial we will be testing a new identity for the Carpetright brand. A new logo has been developed to give a more contemporary feel that will attract customer groups in which the business has previously under-indexed, without alienating our loyal existing customer base.
Carol Jones, General Manager of Carpetright Clapham, commented on the launch: "I'm so pleased that Clapham has been chosen to play host to one of our new concept stores. We've been on the high street here for 9 years, and in that time we've been proud to give our customers a local, unique personal service, whilst offering the choice and brilliant value of a large national brand. We're really excited to see how customers respond to the new look."