Red Vine: a new Modern British restaurant in the heart of Clapham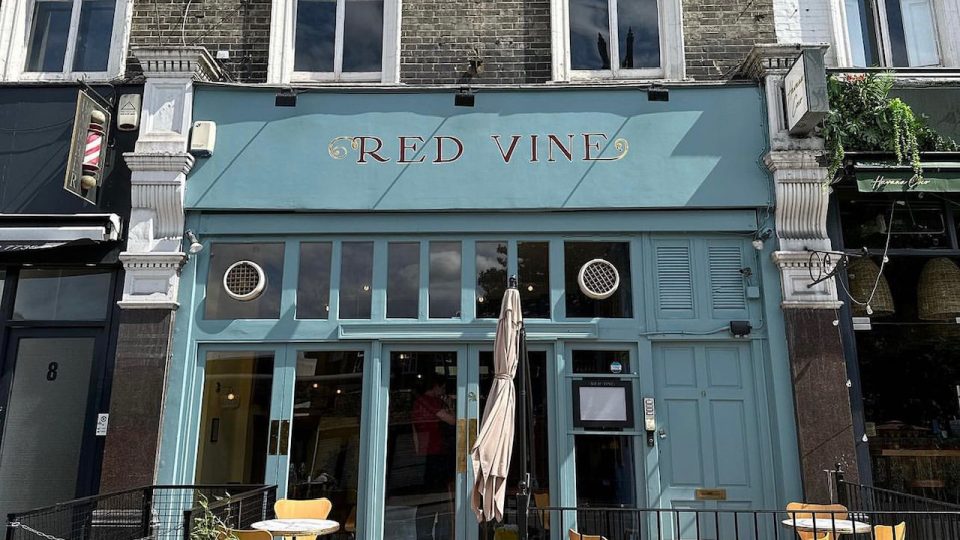 Located right by Clapham Common, Red Vine is a newly opened neighbourhood restaurant that celebrates Modern British food with a focus on wine.
Only using local ingredients, owner Richard Herbert and Head Chef Julio Amado, previously at Aquavit, have created a delicious, seasonal British menu with a Mediterranean twist.
Homemade sausage rolls with mustard mayonnaise; deep-fried mussels served with aioli; and truffle tortelloni tossed in garlic butter all feature on the beautifully curated menu, which is divided into small plates and large plates. This is food that's supposed to be lingered over. And with an uncomplicated wine list and creative cocktails, there are plenty of reasons to stay a little longer.
Red Vine is open for dinner from Thursday to Sunday, 5pm until late.
The charming restaurant welcomes dogs and is beautifully decorated with colourful walls and original church pews. A conservatory in the back with stained glass windows and an enchanting garden will soon open for al fresco dining. In winter, customers will be able to enjoy cosy meals curled up in front of the log burner inside.
Red Vine Restaurant
Address: 9 Clapham Common South Side, London SW4 7AA, United Kingdom
Telephone: +44 20 7627 0632
Email: info@redvinerestaurant.com
Website: redvinerestaurant.com
Instagram: @redvinerestaurant
Opening hours: from Thursday to Sunday 5pm-11pm
Press enquiries: Olivia Dicker | olivia@soufflecommunications.com
Leonore Dicker | leonore@soufflecommunications.com