Tonkotsu opening in Clapham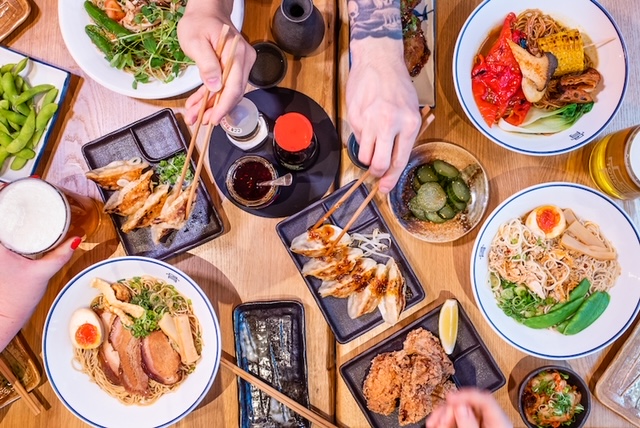 Ramen specialist Tonkotsu is excited to announce that its next restaurant will be opening in Clapham in September 2023. Located at 153 Clapham High Street, a couple of minutes from Clapham Common tube station, bringing its signature bowls of ramen, gyoza, and its famous chicken kara-age to the south-west London neighbourhood for the first time.
Commenting on the opening, co-founder Ken Yamada says: "We're delighted to be able to bring our amazing ramen with freshly made noodles and bone broth to Clapham! It's an area of London we love and have been looking in for the right property for Tonkotsu for a while. We're installing a DJ booth as well, so watch this space for some lively evening events".
The menu at Clapham will feature the restaurant's signature Tonkotsu ramen, a rich and creamy pork and lardo broth with thin-cut noodles, and topped with roast pork belly, bamboo shoots, bean sprouts, spring onions, burnt garlic oil and a seasoned egg. Other favourites include the Chilli Chicken Ramen – a chicken and sea salt broth pimped up with Tonkotsu's addictive Eat the Bits Chili Oil – and the vegan Mushroom Miso ramen. All soups can be customised with extra toppings such as kimchi or the spicy scotch bonnet hot shot.
No visit to Tonkotsu would be complete without a few plump, juicy gyoza and Tonkotsu Clapham will be serving up freshly steamed batches of the classic pork, ginger, and garlic, as well as shiitake and bamboo shoot, and king prawn versions. Other standout starters include Tonkotsu's crisp fried chicken kara-age, plus Eat the Bits chilli chicken wings and the vegan-friendly cauliflower 'wings'.
Like its sister restaurants, Tonkotsu Clapham will offer a range of smaller-sized ramen to give customers more choice of price point. The smaller size, of which a limited range has always been available as part of the lunch deal, has now been expanded to include all ramen on the menu and is available at any time of day or night.
The drinks menu includes a sake made for Tonkotsu by the Tsuji Brewery in Okayama, and an exclusive beer, Mikan Shimoda Pale Ale, made in collaboration with Thornbridge. The drinks line up is completed by Japanese whisky, wines, and cocktails, plus low-alcohol options, soft drinks, and teas.
As well as plenty of space to dine-in, Tonkotsu will also be available on Deliveroo, and for takeaway via its own Click and Collect service at tonkotsu.co.uk. To be the first to hear about Tonkotsu's opening plans in Clapham, and be in with the chance of winning one of 10 'free ramen for a year' prizes plus an invite to the opening party sign up here.