Guillaume Apollinaire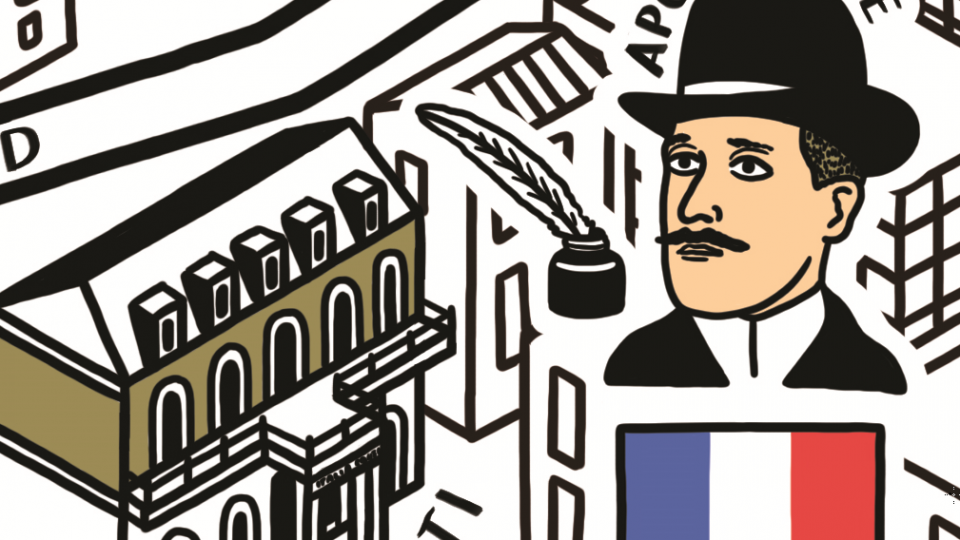 Apollinaire was a French poet, playwright, short story writer, novelist, and art critic and is considered one of the foremost literary figures of the early 20th century. His brief career influenced the development of such artistic movements as Futurism, Cubism, Dadaism, and Surrealism, and the legend of his personality—bohemian artist, raconteur, gourmand, soldier—became the model for avant-garde deportment.
His real name was Albert Włodzimierz Apolinary Kostrowicki and according to most sources,  was born in Rome in 1880, the illegitimate son of a Polish woman and an unidentified man—there is speculation that his father may have been an Italian military officer, a prelate, or even a cardinal in the Church.
In May 1904, Guillaume Apollinaire caught the boat-train from Paris-Saint Lazare to London Victoria, in a last attempt to win the love of a young Englishwoman named Annie Playden. For almost half a century, little was known about Annie except that she had been a governess in Germany where she had met Apollinaire and where she had turned down his proposal of marriage. She called her suitor by his real name,"Kostro".
In 1951, an Apollinaire scholar tracked Annie down to New York. He discovered that she had lived in the United States ever since Apollinaire's visit in 1904. Annie – now Mrs Postings – was indeed the emigrant of Landor Road, and revealed that she had left London in fear of Kostro's jealousy and the violence it could bring on suddenly. She had been frightened in Germany when he proposed on a mountainside, inviting her to consider the steep drop before giving her response. And one evening he had come knocking at 75 Landor Road and threatened to break down the door when her parents forbade her to open it to him, the cumbersome Frenchman who made unlikely displays of "noble blood". (In fact, his paternity was vague, and his mother was what was then known as an "adventuress".) Annie had told Kostro she was leaving soon for America and then, feeling hemmed in by her own lie, had applied to an agency which arranged for her to take up a post of governess in California.
Half a century on Annie Playden Postings had no idea that Kostro had become Apollinaire, that he was widely regarded as the greatest French poet of the 20th century, and that he had written poems about their love affair. He composed a 13-line poem called "Annie" and a longer one, "L'Émigrant de Landor Road", named after the street in which the Playden family lived in Clapham, of which the subject is a man who leaves for America in "the coat of a lord who died without paying".
He also wrote "La Chanson du Mal-Aimé", ("Song of the Poorly Loved"). The initial motivation for the poem came from Apollinaire's love affair with Annie Playden . The poem opens in misty London, where Apollinaire was rebuffed by Annie in November, 1903, and closes the following June in Paris, where he returned with all hope lost in May, 1904. As the comparison between his love and the phoenix the poem revolves around Apollinaire's efforts to resurrect his life after this unhappy love affair.
Two years after being wounded in the First World War, Apollinaire died in the Spanish Flu pandemic of 1918, he was 38.
More information is available from the Guardian's website
Annie
On the Texas coast
Between Mobile and Galveston there
A large garden full of roses
It also contains a villa
Which is a large pink
A woman often walks
In the garden alone
And when I go on the road lined with linden trees
We look
As this woman is Mennonite
Her roses and her clothes have no buttons
The two missing in my jacket
The lady and I follow almost the same rite
The Emigrant from Landor Road
His hat in his hand and right foot first he stepped
In on a very chic tailor a purveyor to the king
This merchant was going to lop off some heads
From mannequins dressed in the latest styles
The crowd in all directions stirred grinding down
Loveless shadows that were dragged across the ground
And towards a sky full of lakes of light their hands were
Time to time taking flight like white birds
My ship will sail tomorrow for America
And I will never return
With money won on the lyrical prairies
To guide my blind shadow along streets I loved
For it's all right for the soldier to return from India
The speculators have sold all my fine gold knickknacks
But dressed in a new suit I want to sleep at last
Under trees full of mute birds and apes
The mannequins getting undressed for him
Shook out their clothing then fitted him
The garment of a dead lord never paid for
This mark-down suited him like a millionaire
Outside the years
Watch the victim mannequins
Through the windows
And pass on in chains
Intercalated in the year were widow days
Bloody and slow burial fridays
White and entirely black beaten by the raining skies
When the devil's wife thrashes her lover
Then in an autumnal harbor with its dim leaves
When the crowds' hands there were leafening also
He placed his suitcase on the ship's deck
And sat down
The winds of Ocean huffing their threats
Left in his hair their long moist kisses
Some emigrants stretched their weary hands toward harbor
And others knelt down weeping
He watched for a long time the dying shores
Only toy boats trembled along the horizon
A really small bouquet floating aimlessly
Covered the Ocean with immense blossoming
He had longed for that bouquet like the glory
Of playing amongst dolphins in other seas
And in his memory was woven
An endless tapestry
Depicting his story
But to drown and turn to lice
Those willful weavers who won't stop asking questions
He got married like a doge
To a modern old maid siren
Swell towards night O Sea The sharks' eyes
Even till dawn have relished from afar
Days' carcasses gnawed by stars
Amidst the noise of the waves and the last oaths