Samuel Pepys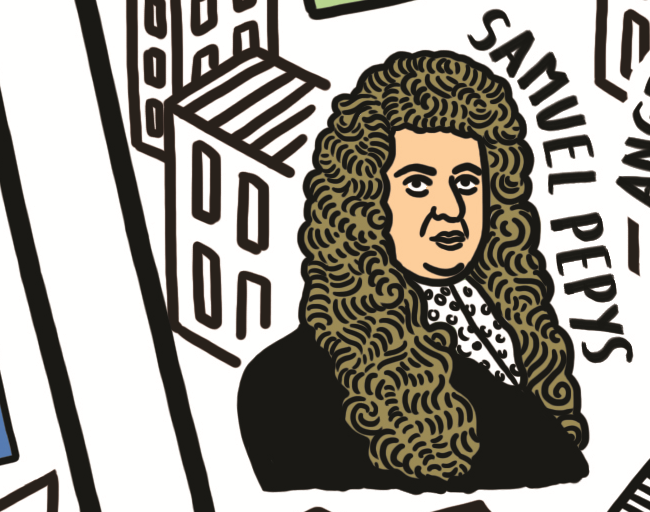 Samuel Pepys' connection with Clapham is well known and he visited it over a period of forty years. Naval connections brought him there, since his client, Dennis Gauden, the Surveyor General of Victualling to the Navy, had a house there from 1649. Gauden makes frequent appearances in Pepys' diaries and gave him regular gifts, although Pepys claimed that he never accepted any gift before a contract had been signed. Pepys visited Gauden's house, Clapham Place, in July 1663, commenting,
I resolved to go to Clapham, to Mr. Gauden's, who had sent his coach to their place for me … When I came to Mr. Gauden's one first thing was to show me his house, which is almost built, wherein he and his family live. I find it very regular and finely contrived, and the gardens and offices about it as convenient and as full of good variety as ever I saw in my life. It is true he hath been censured for laying out so much money; but he tells me that he built it for his brother … Besides, with the good husbandry in making his bricks and other things I do not think it costs him so much money as people think and discourse.
Pepys continued as a regular visitor, including at the height of the Plague in July 1665 but Gauden finally met disaster in 1677, being arrested for debt, and there was nothing Pepys could do to avoid his bankruptcy. William Hewer, Pepys' former clerk but then a merchant and family friend, then bought Gauden's house and moved in himself on Gauden's death in 1688. Hewer promptly improved it, disposed of the farms used by Gauden to supply his victualling contracts, and retained only gardens and pleasure grounds. Pepys continued to visit Hewer's mother who lived there.
Pepys and Hewer both fell out of favour after the Glorious Revolution and, with increasing ill health, Pepys retreated to Hewer's house for several weeks in the summer of 1697, a much longer period in 1700, and then permanently in the summer of 1701, with all his books moved there the next year. While Pepys was very much an urban animal, Clapham had good air, and its height above sea level of one hundred feet, coupled with its distance from the City, provided considerable improvement for those used to the stench and noise of London. John Evelyn commented: 'I do most heartily congratulate the improvement of your health, since your change of air,' and later 'while I mourn your absence here, you are at Clapham, enjoying better health, a purer air, nobler retreats.'
Pepys played a full part in the community until his death in 1703 and left a legacy of £5 to the poor of Clapham and a series of mourning rings to Clapham residents. He left his estate to John Jackson, the son of his sister Paulina.